Description: There are instances where it is possible to connect to a VT-Modem, but the attached device doesn't seem to be communicating through the VT-Modem. The procedures below explain how to test the functionality of the VT-Modem to determine if there is a problem with the VT-Modem or with the connected device.

Test Equipment:
(2) VT-Modem-1
(2) PC's or Laptops
(2) Hyperterminal Sessions
(2) VT-CABLE-MDM
Modem Setup Wizard (Version 2.11)

***Note: Test Equipment Options - This test can be conducted with any VT-Modem (1,2,3,4,or 5) or a combination of any, including an internal PC Modem on one end. Any terminal emulator program can be used in place of hyperterminal. (1) PC with (2) Com ports can be substituted for (2) PC's if conducting test locally.

Procedure:
1. Connect a VT-CABLE-MDM (DB-9 Straight thru cable) from the PC to the VT-Modem-1. Repeat this process for the second VT-Modem and PC if applicable.
2. Open up the modem wizard software, click "Next" and select the appropriate com port on the communication parameters page, click on the "Red Bar" to detect the Modem. The bar should turn blue and specify the VT-Modem model that you have. Leave all parameters as defaults and write the configuration to the modem.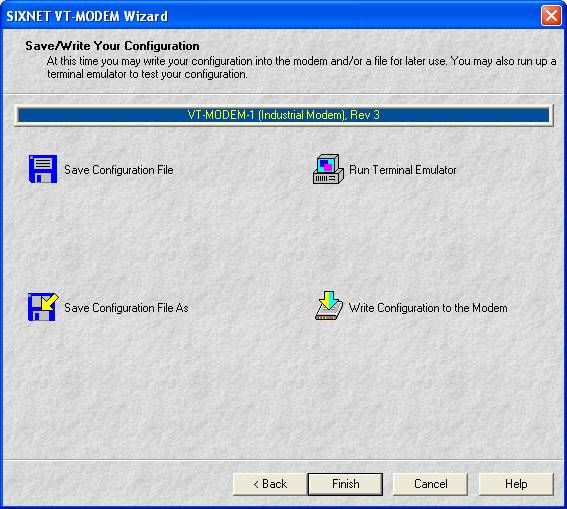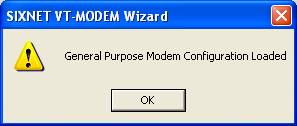 3. Close out of the VT-Modem Wizard Software and open a hyperterminal session. Give your session a name and hit OK.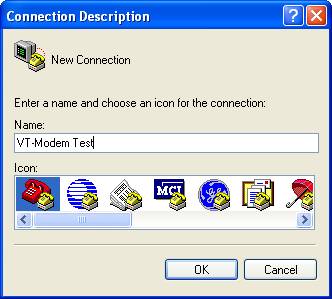 4. Select the appropriate com port for your PC and hit OK (In below example, it is com port 3).

5. Set your com properties as shown below and hit ok.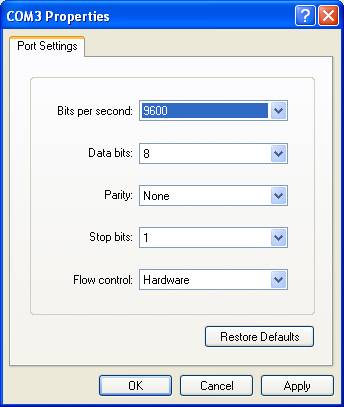 6. Type AT and then hit the enter key and you should see OK.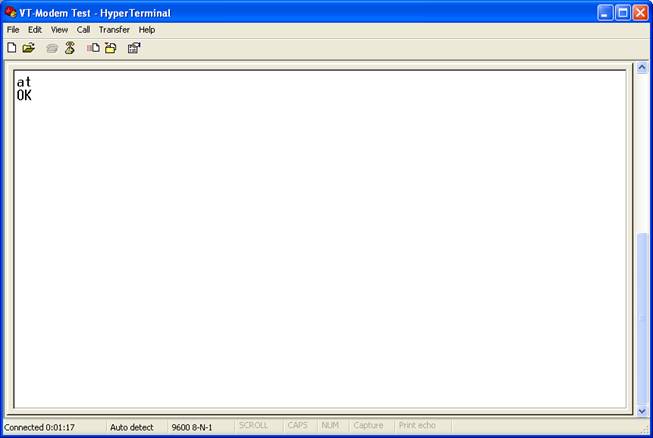 .
7. Follow the same procedures to set up your second hyperterminal connection. 
8. Open up a hyperterminal session for both modems and dial from one modem to the other by using the command ATDT# (where # = the phone number of the remote VT-Modem). Once the Modems have made a successful connection, type a message on the local modem and you should see what you type on the remote modem's hyperterminal screen and nothing locally. Now type something on the remote modem and you should see the output to the local modem. See examples below: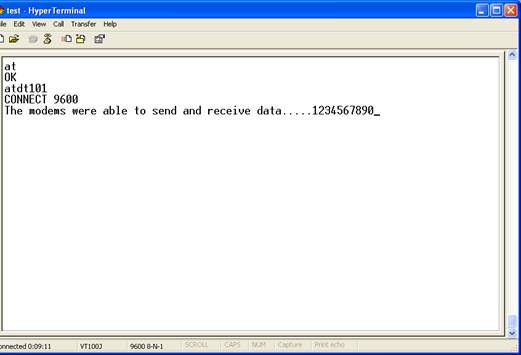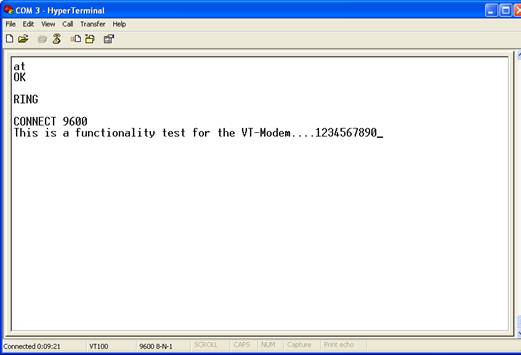 9. If you are able to successfully test the VT-Modem-X as described above, then the problem is most likely a wrong pin-out from the VT-Modem-X to the connected device or a communication parameter setting in the connected device. 
10. If the above functionality test fails, please contact Customer Service for an RMA#. Please have the 3-digit date code and/or serial number available when requesting an RMA#.