This note applies to the following Red Lion cellular router/RTUs:
SN/RAM-66xx, SN/RAM-67xx, SN/RAM-68xx, SN/RAM-69xx, RAM-99xx
Scenario 1 - Serial device responds to queries (TCP server mode)
A polling station queries a field device by sending polls over IP targeting the WAN IP address of the cellular router. The router forwards the requests locally at the serial port and listens for data back from the attached serial device. The router encapsulates the data based on the flush conditions in place and sends a response back to the same source port following IP socket handling.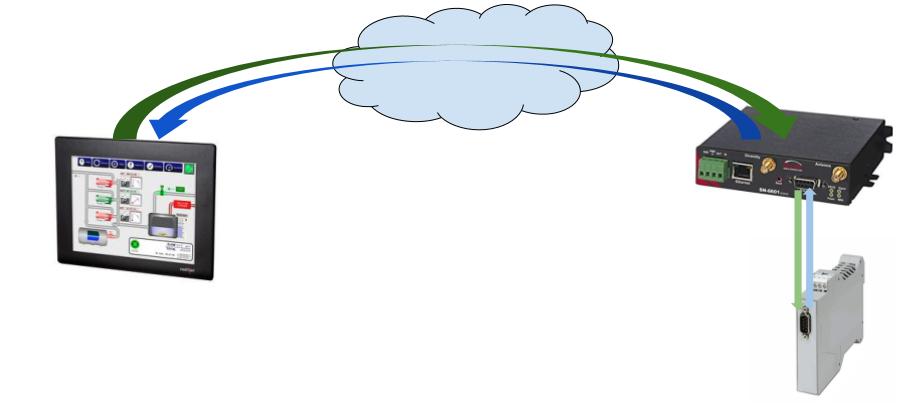 When set in Serial IP mode, upon reception of the IP packets, the modem transparently strips off the IP headers and passes the packets to the attached device as raw data perceived correctly by the device. When the device is sending data, the modem encapsulates the data in IP packets to be transmitted over-the-air to an assigned destination.
In the following example a polling station uses TCP port 2000 to access a serial device behind the cellular router.
Step 1. Browse to the Services Tab and scroll down to the Serial IP item.
Enable "Serial IP" menu and the following window will appear. "Serial port settings" should match the settings on the serial device. For more detailed information on the serial port specifications, refer to the Hardware User manual.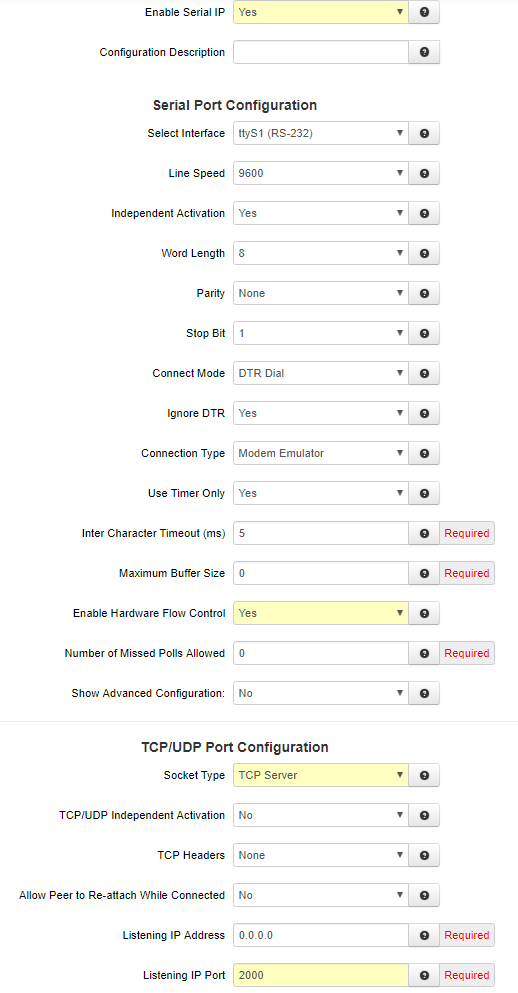 Press the Apply button.
Step 2. Browse to the NETWORK Tab and scroll down to the Firewall item, select "Port Allow/Forwarding rules"
Click on the "Add" button to add a Service Access Rule to allow access to on TCP port 2000. The "Service Access Rules" menu item allows you to define what ports, either as a single port or a range of ports, are authorized access through the firewall on the Red Lion router.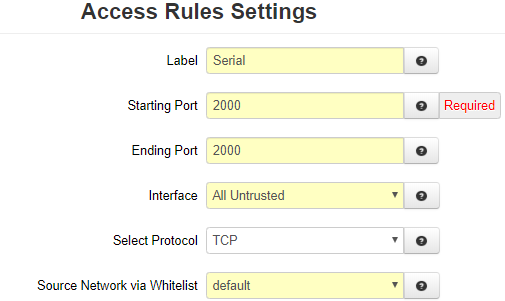 Press the Apply button.
--------------------------------------------------------------------------------------------------------------
Disclaimer
It is the customer's responsibility to review the advice provided herein and its applicability to the system. Red Lion makes no representation about specific knowledge of the customer's system or the specific performance of the system. Red Lion is not responsible for any damage to equipment or connected systems. The use of this document is at your own risk. Red Lion standard product warranty applies.
Red Lion Technical Support
If you have any questions or trouble contact Red Lion Technical Support by clicking here or calling 1-877-432-9908.
For more information: http://www.redlion.net/support/policies-statements/warranty-statement