Abstract
Red Lion Workbench and ST-IPm-8460 runtime has native support for Modbus serial master protocol. This document shows the configuration steps necessary to successfully configure the RTU with Modbus over serial.
Products
ST-IPm-8460
Use Case: Drivers supported in the Red Lion Workbench and ST-IPm-8460
Required Software
Red Lion Workbench 1.0.3 or higher.
ST-IPm-8460 firmware 7.0.101 or higher.
Sixnet I/O Tool Kit 5.0.101 or higher.
Necessary Sixnet I/O Tool Kit Configuration
When using a serial fieldbus configuration in Red Lion Workbench you must configure the RTU serial port in the Sixnet I/O Tool Kit Configuration. In the RTU configuration in the 'Ports' tab enter the port protocol as 'User Mode.' Select the baud rate, parity, data bits and stop bits as well. Download this configuration to the RTU.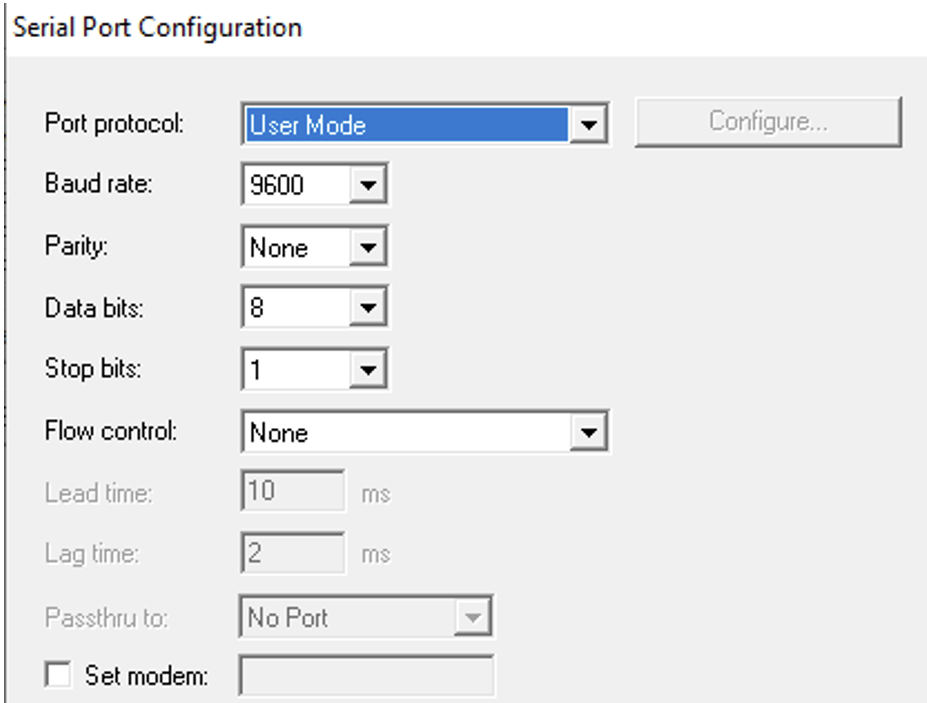 Configure Modbus Master Serial Port
After adding the Modbus Master fieldbus configuration to the project on click on insert master/Port. There select Modbus serial-RTU. Enter the COM number of the port on the ST-IPm-8460 you wish to use. Below is a table of all serial ports.
| | |
| --- | --- |
| RTU port | Modbus Com. Port |
| Port A | COM3 |
| Port B | COM1 |
| Port C | COM4 |
| Port D | COM2 |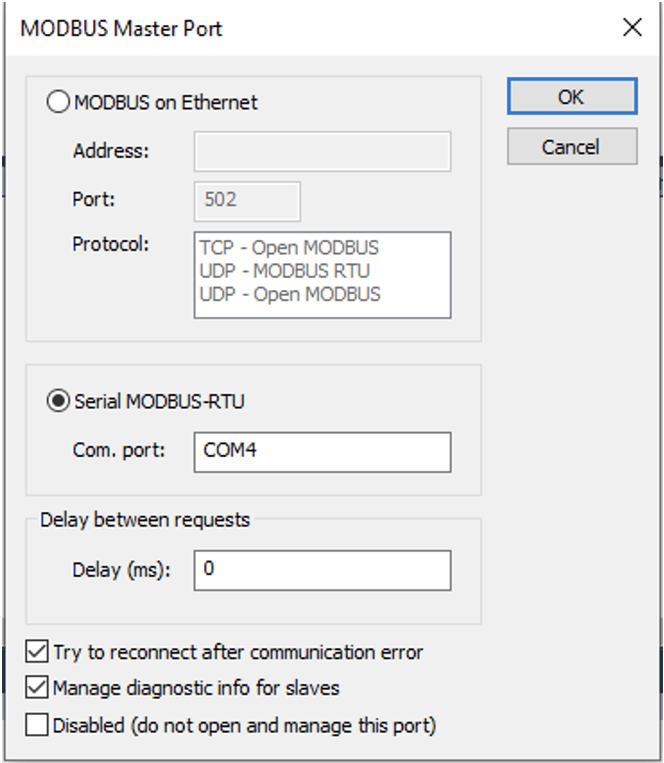 Complete the configuration by adding slave and tag information.

Disclaimer
It is the customer's responsibility to review the advice provided herein and its applicability to the system. Red Lion makes no representation about specific knowledge of the customer's system or the specific performance of the system. Red Lion is not responsible for any damage to equipment or connected systems. The use of this document is at your own risk. Red Lion standard product warranty applies.
Red Lion Technical Support
If you have any questions or trouble contact Red Lion Technical Support by clicking here or calling 1-877-432-9908.
For more information: http://www.redlion.net/support/policies-statements/warranty-statement